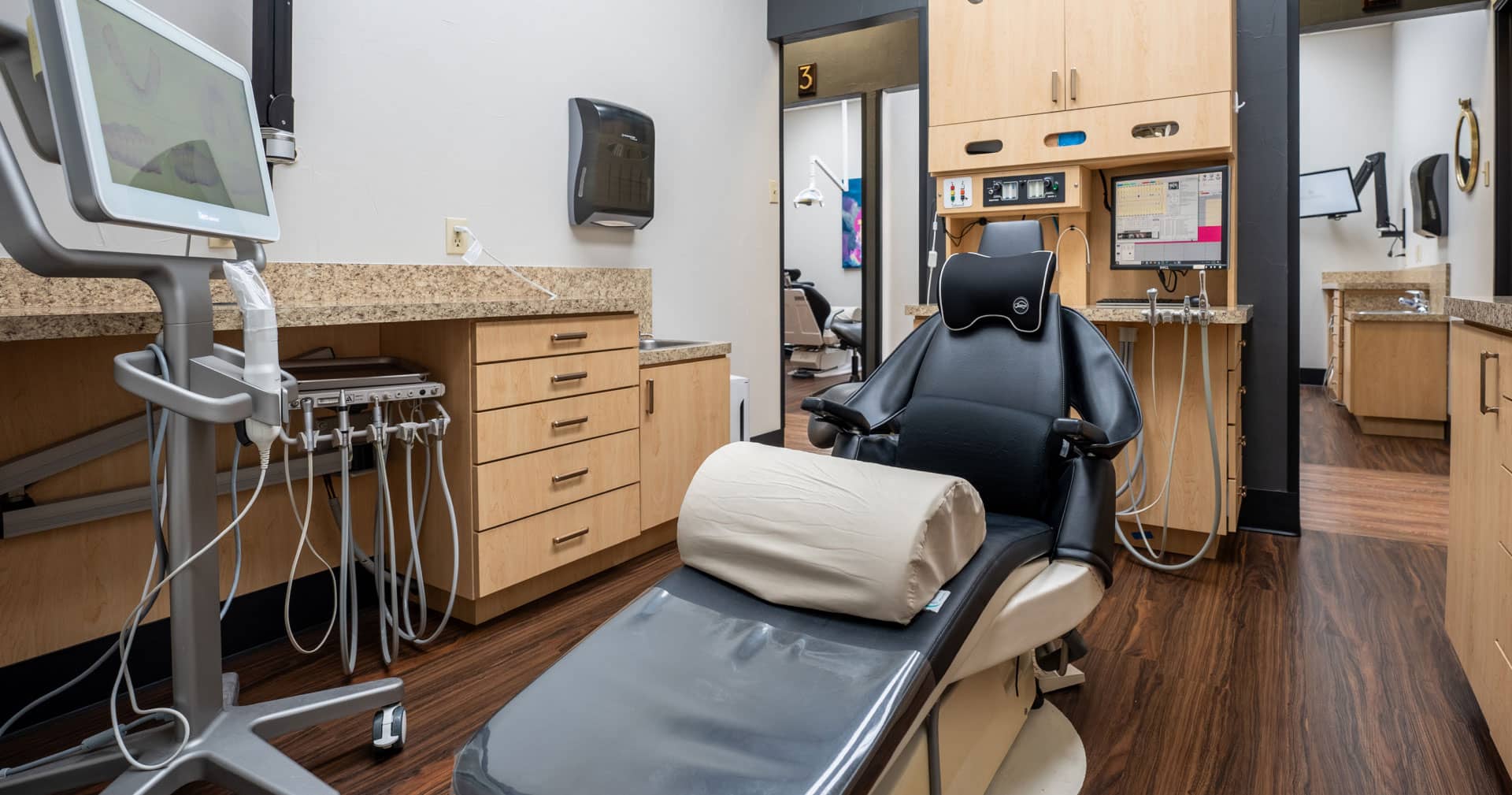 Our approach to cosmetic dentistry
When considering cosmetic dental treatment, it's important to choose a dentist with the right skills, knowledge, and team to get the results you're looking for. You also want to choose a practice that offers a welcoming and comfortable environment. At Ashly Cothern, DDS, patient comfort and expert care are our top priorities. We listen intently to what you want so we can create the best possible treatment plan to suit your individual needs.
Our team is also dedicated to using the latest technology, equipment, and techniques. An example of this is OraVerse, which is a groundbreaking agent that reverses any numbing effects after a dental procedure.
Visit us for in-office whitening or a take-home kit.
Teeth can become discolored for all sorts of reasons. Particular foods, beverages, smoking, and even age can result in your teeth losing their bright white shine. The good news is that teeth-whitening treatment delivers outstanding results. At Ashly Cothern, DDS, we offer Opalescence Boost. This is an in-office, professionally applied solution that provides instant improvement. We also offer at-home teeth whitening solutions: Opalescence Tréswhite Supreme and Opalescence Go. A whiter, brighter smile helps you look and feel great, no matter your age. If you're interested in finding out what option is best for your needs, ask our friendly team at your next appointment.
Vanish white marks in a flash.
White spots on the teeth are a common issue that patients want help with. These spots can appear as a result of plaque accumulation, overexposure to fluoride, vitamin deficiencies, or illness. At Ashly Cothern, DDS, we use the Icon infiltration system to reduce and remove white spots. This is a safe, minimally invasive technique that helps avoid the need for noisy drills. Dr. Cothern can also provide restorative treatment for post-orthodontic white-spot lesions.
Our Cosmetic Dentistry Services
Transform
smiles
Boost
confidence
Improve
appearance
For patients who have crooked teeth, gaps, or overcrowding, Invisalign is a great solution. It gives you the smile you want without the need for metal braces. Invisalign uses clear aligners that you can hardly see, making it a great treatment for self-conscious children or adults who want to improve their smile without having traditional braces disrupt their lifestyle. You can take the aligners out easily to brush your teeth and eat as normal. Invisalign aligners are 100% customized to you for a snug fit and optimal comfort. Simply keep smiling brightly while they do the work behind the scenes. Treatment time varies from patient to patient. If you're interested in straightening your smile, ask Dr. Cothern about Invisalign at your next appointment.
Repair minor chips and gaps
If you have minor chips or small gaps between your teeth, composite bonding is a great solution. It can also help hide discoloration. Composite bonding involves adhering color-matched composite resin to your natural teeth with a special bonding agent. Dr. Cothern then contours and polishes the bonding to make it blend with the rest of your smile and to give it a natural-looking sheen. Composite bonding is removable and doesn't require any invasive enamel preparation.
A brand-new smile awaits.
Porcelain veneers are another option to cosmetically improve your smile. They are perfect for permanently covering up chips, gaps, discoloration, and misshapen teeth. Porcelain veneers provide a premium finish and are very strong since Dr. Cothern bonds them in place.The nature of porcelain makes veneers much more resistant to chips and stains than composite bonding, so you can keep your bright-white smile looking great. With good home care, your porcelain veneers could last well over 10 years.
Create a smile you are proud to show off.
Ashly Cothern, DDS provides porcelain dental crowns as part of our cosmetic dental treatments. That is because porcelain is the highest-quality stain-resistant material available. Our team will take digital impressions using our iTero intraoral scanner. This not only saves you from having to endure messy impression material and uncomfortable trays but also gives us an excellent rendering with less risk of distortion. Once your customized crown is ready, we will cement it in place over the tooth to provide it with strength, stability, and a beautiful finish.
Expert advice to achieve the smile you want
Dr. Ashly Cothern has many years of experience working with patients who want to transform their smiles. Smile makeovers use a variety of cosmetic dentistry techniques. This might include white-spot reduction, veneers, crowns, or Invisalign. Whether you have chips, cracks, gaps, overcrowding, white spots, discoloration, or something else, Dr. Cothern will recommend a treatment plan to achieve your smile goals. She also has extensive experience in restorative dentistry techniques for more complex cases. Whatever treatment you may need as part of your smile makeover, you can be sure that you will be taken care of at Ashly Cothern, DDS. From digital scanning and impressions to OraVerse to reverse the effects of numbing agents, everything we do is to improve your comfort and deliver the best possible results.
Payment Options & Insurance
Dental treatments must be paid for at the time of treatment. Our team can estimate out-of-pocket fees prior to your appointment for your convenience. We accept PPO dental insurance plans, cash, card (Visa, Mastercard, American Express, and Discover), and check. We also accept CareCredit and LendingClub.