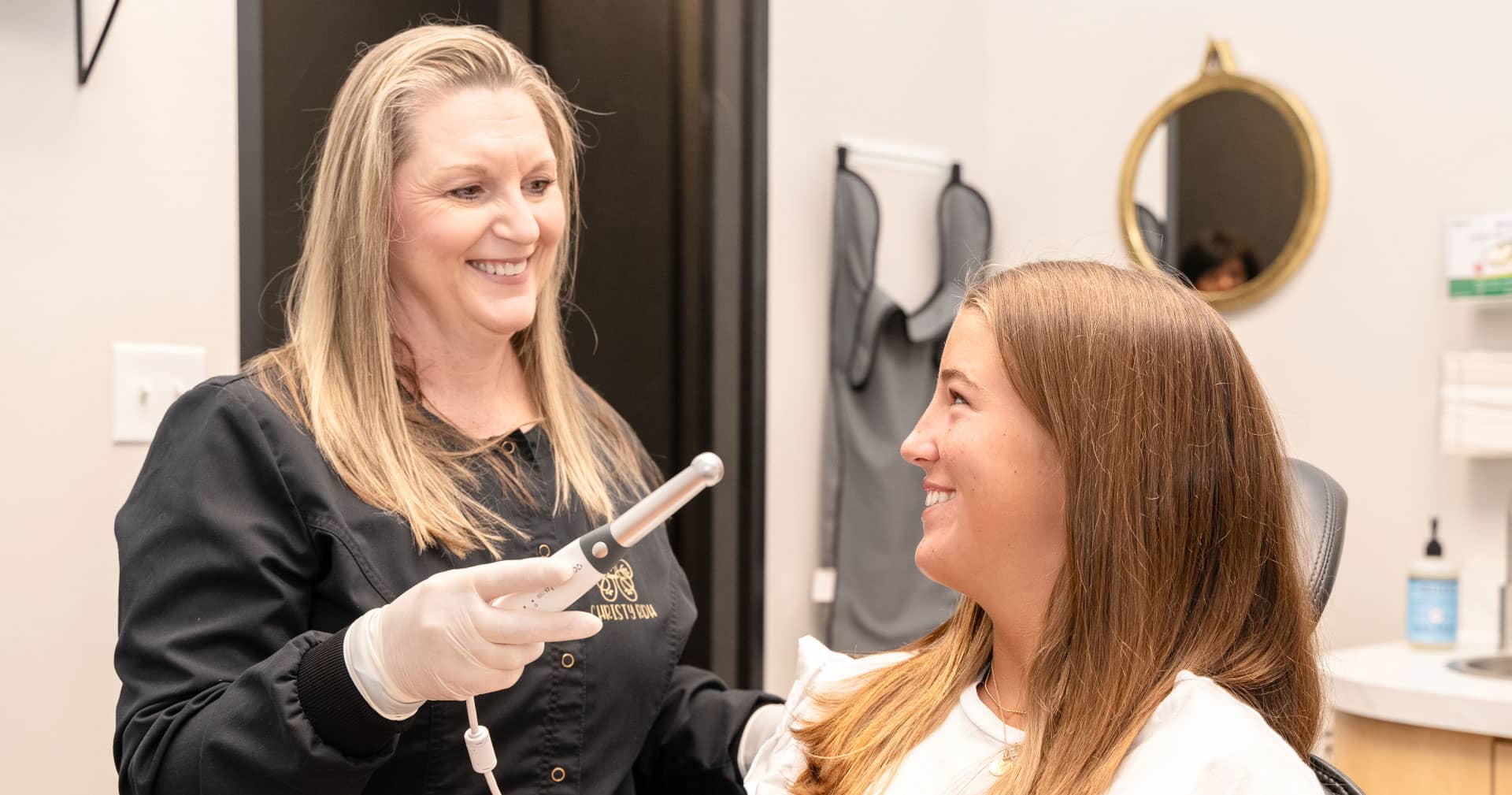 The Importance of Choosing a Dental Home
A familiar place and friendly faces to support your health
It's important to choose a dental home for you and your family. Seeing the same team for regular dental checkups can reduce stress and help you maintain your healthy smile for life. Our team will look for any changes since your last visit and house all of your dental records in one place. Familiar places and faces also help to reduce any dental-related anxiety if you're feeling nervous about any treatment you may need. Dr. Cothern and our team love that so many patients see her practice as their dental home, and we truly enjoy providing a welcoming, comfortable environment for your treatment needs.
The Ashly Cothern, DDS Difference
Our approach to general dentistry
Dr. Ashly Cothern is central to our boutique practice, and her valued team members have been supporting her for many years. This established team of dental professionals take the time to get to know patients—so much so that over the years, they have become like family. This is a practice that feels like home, a place built on trust, where patients feel seen, heard, and known. Lifelong relationships with your dental team combined with high-quality care and comfort are a winning combination for your oral health.
Professional Dental Cleanings
Reach those hard-to-see problem areas
Professional dental cleanings are an important part of preventive dental care. Even if you have a great brushing and flossing routine at home, professional cleanings get into those hard-to-reach areas. Your hygienist will remove all plaque and tartar to ensure that your teeth and gums are clean and fresh. Your teeth will feel great afterward, and professional dental cleanings twice a year will keep your teeth and gums healthy.
Our General Dentistry Services
Diagnose
Dental Issues
Get Rid of
Decay
Maintain
Healthy Smiles
Reduce the risk of developing dental issues.
Twice-yearly visits to the dental office for routine cleanings and thorough oral evaluations can help to prevent all manner of problems. Seeing us regularly for preventive dental care means our team can detect developing issues faster and fix them easier. This way we can help you prevent cavities, decay, and gum disease. Healthy teeth are an important part of your overall well-being. They need to be cared for like the rest of your body.
Fluoride treatment is one common preventive treatment that helps both to support healthy tooth enamel and to prevent harmful bacteria from causing problems. At each preventive appointment, our team will also perform an oral cancer screening using OralID, a cancer-screening device that helps to detect any precancerous lesions.
Create stability for damaged teeth.
Dental crowns restore existing teeth that have suffered damage such as cracks or extensive decay. A crown works by covering the remaining healthy tooth structure and is permanently cemented in place for stability. Dental crowns protect against further damage and hold up well to normal chewing forces. At Ashly Cothern, DDS, we use an iTero digital scanner to take digital impressions of your teeth. Then the lab uses these impressions to craft your crown from your choice of porcelain, zirconia, gold, or lithium disilicate.
Professional removal with care
Dr. Ashly Cothern will do everything she can to save a tooth, but sometimes it's just not possible. If a tooth is damaged beyond repair, as in some cases of deep cavities or infections, an extraction may be necessary. Tooth extractions are straightforward, and there is nothing to fear. Our practice will make you as comfortable as possible and provide you with aftercare instructions. Dr. Cothern will also advise you about options to replace your missing tooth once your gums heal.
Stop the progression of gum disease.
Periodontal therapy is treatment for gum disease, also known as periodontitis. Classic symptoms of gum disease are:
Bleeding gums
Chronic gum infection and inflammation
Receding gums
Tender teeth and gums
If the bacteria and tartar below the gumline that are responsible for periodontitis are not professionally removed, disease will progress, leading to eventual tooth loss. Periodontal therapy typically includes scaling and root planing: a gentle deep cleaning to remove bacteria and smooth the root surfaces. This encourages tissue reattachment and restores gum health. Healthy gums are foundational to a healthy mouth.
Keep calm and reduce anxiety
At Ashly Cothern DDS, we offer nitrous oxide for patients undergoing more complex treatments. This further reduces pain to keep you comfortable throughout your treatment while remaining completely conscious. You will feel relaxed and sleepy during your appointment, but the nitrous oxide's effects will quickly wear off afterward. It's quickly metabolized, so you can resume your normal activities immediately.
Stop bruxism in its tracks.
Bruxism is the official term for teeth grinding. It most commonly occurs during sleep, so many patients are unaware they are even doing it. The problem with bruxism is that it can wear down the enamel, causing teeth to chip or crack. This can lead to permanent damage, pain, and bite issues. A nightguard is a custom oral appliance that helps protect your teeth from nighttime grinding to prevent further damage.
Sleep apnea is a common problem, and SomnoDent can help. It is an oral appliance designed to reduce snoring and sleep apnea symptoms. The appliance shifts your jaw into a position that expands your airway to promote easier breathing and better airflow. SomnoDent appliances are custom made to each patient to ensure a comfortable fit all night long.
Payment Options & Insurance
Dental treatments must be paid for at the time of treatment. Our team can estimate out-of-pocket fees prior to your appointment for your convenience. We accept PPO dental insurance plans, cash, card (Visa, Mastercard, American Express, and Discover), and check. We also accept CareCredit and LendingClub.