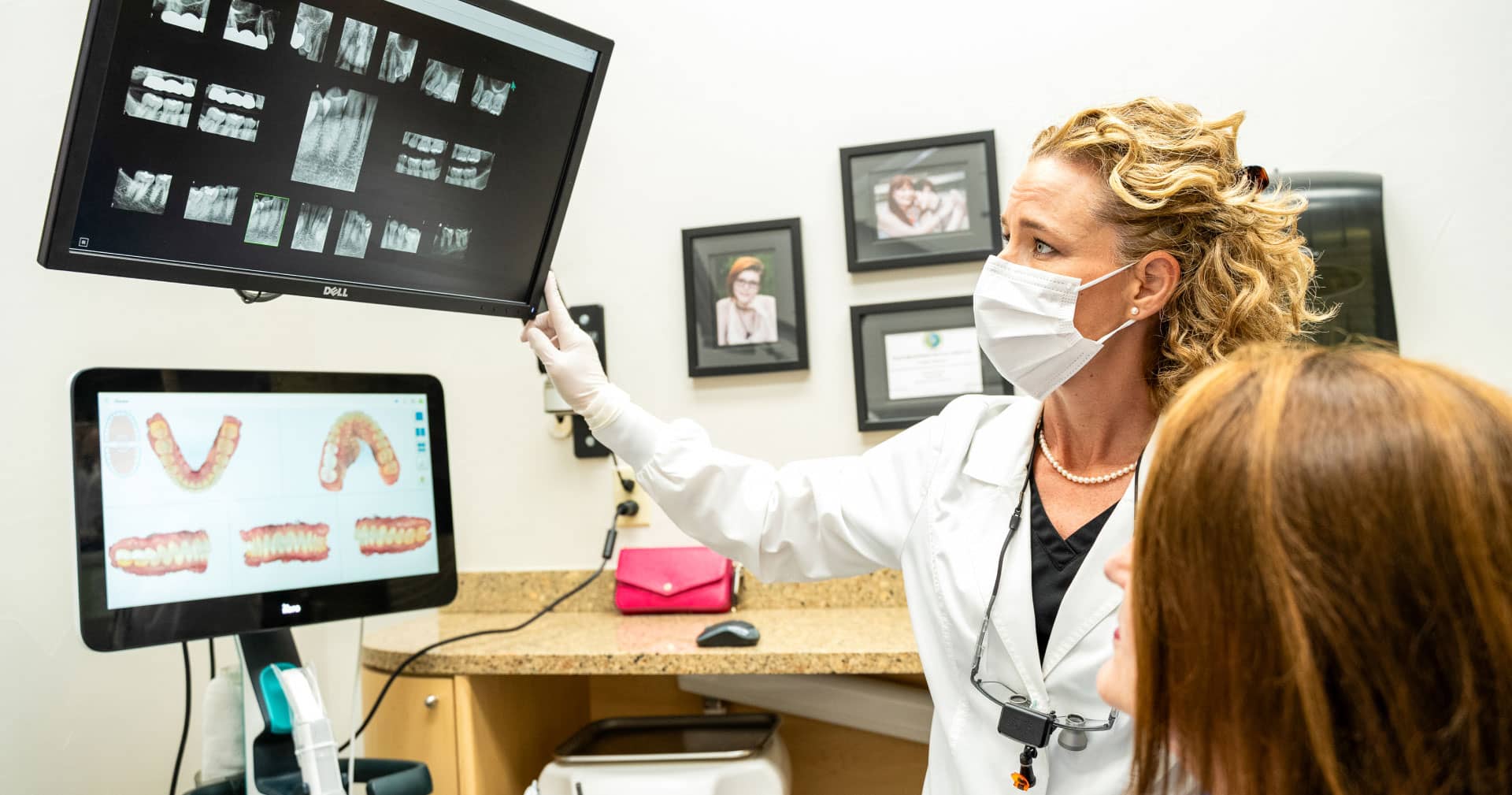 Our approach to restorative dentistry
Restorative dentistry improves the functionality of your teeth, mouth and jaw. It involves treatment to repair, restore, or replace damaged or missing teeth. Dr. Cothern uses a variety of restorative techniques to do this. She uses her decades of dental experience to restore form and function so you can smile confidently again. It is important when choosing a dentist for your restorations to consider how their office makes you feel. You need a dentist with the skills, knowledge, and team to get the results you need. At Ashly Cothern, DDS, we've created an environment where people feel seen, heard, and cared for. Our practice uses the latest in dental innovations, including OraVerse, which reverses the numbing effects after treatment.
Protect & strengthen your teeth.
Dental crowns are a common restorative treatment for damaged teeth. Each crown is carefully crafted to fit perfectly over the tooth. It provides the needed strength and support to a severely damaged, fractured, or worn tooth. A crown can also improve the shape of a tooth so that your bite is optimal. Getting a crown is typically a two-appointment process that begins with tooth preparation and digital impressions with our iTero intraoral scanner. There is no need for gooey impressions these days. Our digital scanning technology makes impressions more comfortable for you and provides a more accurate result.
Fill spaces left by missing teeth.
Dental bridges fill the space left by one or several missing teeth. The bridge involves a prosthetic tooth that is held in place by crowns on adjacent teeth. It's important to replace missing teeth, as failure to do so can mean that the surrounding teeth drift into the space. This affects your bite and the everyday function of your teeth and mouth; excess pressure on the remaining teeth can cause difficulty chewing and jaw pain. We use porcelain bridges at our dental practice to ensure strong, beautiful restorations.
Our Restorative Dentistry Services
Repair
damaged teeth
Restore
function
Improve
smiles
Partial dentures are an ideal solution if you still have some of your natural teeth. After all, if the existing teeth are in good shape, it makes sense to keep them. Partial dentures help to fill in the gaps left by the missing teeth. Failure to replace them can make basic functions like eating and speaking difficult. Cheeks can also appear sunken if there are many missing teeth. Partial dentures restore proper mouth and jaw function to greatly improve your smile, and they are easily removable for cleaning.
A natural-looking solution to missing teeth
Dental implants are a permanent solution for missing teeth. They look and feel natural and function exactly like your normal teeth. The process involves the attachment of a titanium screw into the jaw where the missing tooth is. In time, the implant fuses with the jawbone naturally. Implants are able to support a denture, a bridge, or a crown. In some ways, they are actually stronger than our natural teeth!
Snoring Cessation and Bruxism
Say goodbye to disrupted sleep.
Snoring and bruxism (teeth grinding) can have a huge impact on your quality of sleep and overall well-being. It can also affect your partner if they are having sleepless nights listening to snoring and teeth grinding. Some people don't realize that their dentist can be of assistance with these things. We offer SomnoDent, which is a dental appliance that helps prevent snoring. It moves your jaw into a position that promotes better airflow and breathing. For bruxism, we can create custom-made nightguards to make sure grinding comes to a halt. This prevents the major wear and tear that occurs with continued teeth grinding.
Tailored restorative treatment to transform your smile
A full mouth restoration rehabilitates all of your teeth. Dr. Cothern will take into consideration your smile, occlusion, facial structure, jaw alignment, speech, and overall mouth and jaw function. She will then work with you to create a customized treatment plan to create the smile you want while restoring the function you need. A full mouth restoration combines multiple restorative techniques, cleverly combining artistry, aesthetics, and science for optimal results. Typically, it is a long-term treatment plan involving several appointments. The Ashly Cothern, DDS team will be with you every step of the way, providing comfort and high-quality care. We will also provide you with detailed aftercare instructions and support so you can maintain your new smile with ease.
Payment Options & Insurance
Dental treatments must be paid for at the time of treatment. Our team can estimate out-of-pocket fees prior to your appointment for your convenience. We accept PPO dental insurance plans, cash, card (Visa, Mastercard, American Express, and Discover), and check. We also accept CareCredit and LendingClub.